Believe it or not, Aachen existed long before Charlemagne.
A glance into the Archaeological Showcase in the Elisengarten proves the point. Ancient Celts and Romans in their own times also appreciated the hot springs here. But it was indeed Charlemagne who first gave the city major historic significance. In the Early Middle Ages, he chose Aachen as his favourite palace, and transformed it into the first capital city of his European empire.
The historic Town Hall, erected on the foundations of the original Carolingian King's Hall, is an impressive reminder of Aachen's past glory as a seat of secular power. The spiritual expression of this former glory has also endured to this day: Charlemagne's Church of St Mary, now known as Aachen Cathedral. That's where Charlemagne's throne stands, and that's where – up to 1531 – more than 30 kings were crowned.
The Archaeological Showcase, the Town Hall and Aachen Cathedral are stations on the "Route Charlemagne", a walk through history in Charlemagne's footsteps that takes you to eight significant sites in the city – and reveals the stories each of them has to tell. The heart and starting point of the Route Charlemagne is the "Centre Charlemagne – New City Museum of Aachen", located between the Cathedral and the Town Hall. Here, Charlemagne in person – well, at least a life-size image of him – waits to welcome all visitors who would like to delve into the rich history of Aachen.
Photos: Stadt Aachen, Jörg Hempel/Aachen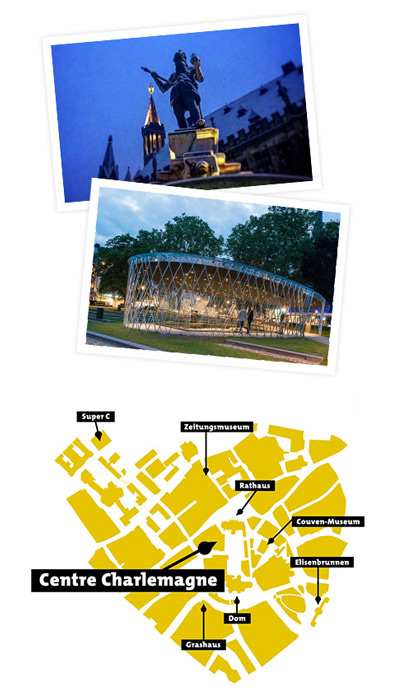 @stadtaachen
auf Instagram