Horse and rider – every year the CHIO draws the international elite of equestrian sports to the Aachen Soers. And this means plenty of first-class performances to marvel at – and plenty of champagne to drink – while the world's savviest professional audience gets to work: the Aacheners themselves. Well-acquainted from the cradle on with oxers, time penalties and traversals, they know precisely when a concentrated hush is called for, or whether a piaffe was perfectly executed. And to round it all off, 45,000 white handkerchiefs are raised and waved...
But it's not only in equestrianism that sports history is made in Aachen. Aachen board divers have won Olympic medals; Aachen volleyball players are competing for the German Championship. We have first-class ballroom dancers, skittles players, chess players and judokas. And football fans' hearts beat faster for the Aachen team Alemannia – come what may.
The only thing that tops all this is, of course, doing it yourself. Aachen has 220 sports clubs with 62,400 members. You can do gymnastics, play badminton and basketball, enjoy golfing, stretching, or swimming – which you can do in style, for example, in the Elisabeth-Hall indoor swimming pool, a gem of art nouveau architecture in the centre of town.
Aachen has bouldering halls, a rope climbing garden, an indoor ice rink and skate parks. If you want, you can play rugby underwater, go mountain biking, cycle along the Vennbahnweg Cycle Route – a converted former railway embankment – all the way to Luxembourg, take part in the New Year's Eve Marathon or simply go for a jog through the Aachen Forest. Out of breath already? Well, you can always slow things down a bit – with a relaxed stroll through one of Aachen's wonderful parks, for example, or a hike in the Grenzland border region. Thanks to a clever numbered intersection system, the chances of getting lost are extremely low. But, don't worry. Enough residual risk remains to add a pinch of adventure to your expedition...
Photos: Stadt Aachen, Andreas Herrmann, Andreas Steindl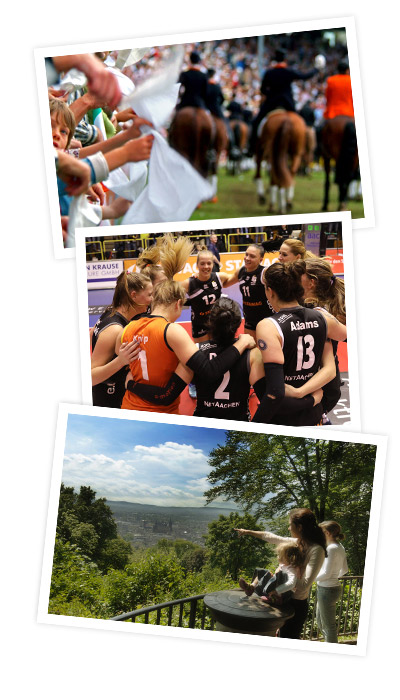 @stadtaachen
auf Instagram