Town Hall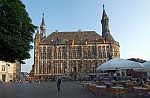 In the early 14th century, the townspeople of Aachen took over the ruined palace of Charlemagne. On its foundation they built the gothic town hall, which was converted into a baroque building in the 17th and 18th centuries. The town hall was seriously damaged in the two fires of 1656 and 1883. 50 statues of German rulers adorn the north facade; 31 of the kings represented were crowned in Aachen.
Inside the town hall visitors can take a look at the Coronation hall with its famous Rethel frescoes dating from the 19th century and copies of the Imperial Crown Jewels as well as the gothic and baroque furniture of the building.

Town Hall

Business hours:
Mon - Sun 10.00 a.m. - 6.00 p.m.
At several dates the Town Hall is closed for special events.

Admission
adults Euro 5,00
reduced price: Euro 3,00
groups from 8 persons up: Euro 3,00 p.p.

The new "combination card Route Charlemagne" allows admission to the town hall, the Couven-Museum and the International Newspaper Museum, price: families 20 Euro, individuals 10 Euro, reduced price 6 Euro. The combination card is available in the respective museums and in the town hall.
www.route-charlemagne.eu

Guided Tours
Guided tour for groups
Guided tour for individuals


Information
Markt
52062 Aachen
tel.: +49 241 43273-10