Aachen as a Congress City - high-tech equipment and historical surroundings guarantee high quality conferences
Already at the time of Charlemagne scholars appreciated Aachen's "conference facilities". The mixed atmosphere of European and cosmopolitan ideas of the old Emperor's city was found to be an uplifting influence for poets, philosophers and scientists from all parts of the empire who were keen to join Charlemagne's court. They set an example for centuries to come: Today's successors of the medieval spiritual and philosophical elite value Aachen for its congresses, conferences, seminars and trainings. At the beginning of the 21st century this city in the heart of Europe offers great incentives: An excellent transport infrastructure, a "spiritual and philosophical climate" that has been formed by the University, the Colleges and the numerous scientific research institutes, an extraordinary range of art, culture and pubs and most especially the perfect service that seems to come along with every event.
The quality standard of Aachen as a congress city can be shown by some impressive figures. Every year there are several hundreds of smaller events and 40 to 50 congresses with more than 200 participants, amongst them 6 to 7 large congresses with more than 1,000 participants. All of them guarantee that the endless stream of guest from all over the world, who come to the city in order to learn, exchange information and experiences as well as to continue the dialogue with their colleagues, never ends.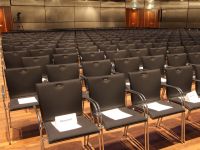 The Eurogress is the heart of Aachen as a congress city. This congress centre was built towards the end of the seventies along the prestigious Monheimsallee very close to the Kurpark, the Casino and to the biggest Aachen hotel, the Pullman Aachen Quellenhof.
Furthermore Aachen has a large variety of additional event locations with their own special atmosphere. You can find anything from the post-modern Technology Centre to the historic and venerable Coronation Hall. If you prefer a student atmosphere you can use the Main Lecture Hall, if you like it pleasant and homely please have a look at the Saaltheater.