The 'Medal for Combating Deadly Seriousness', a clownish prize of international renown (01/28/2012)
It is by no means less famous than Aachen's Charlemagne Award or 'Aachener Printen' (a kind of hard spicy biscuits, a typical product of Aachen), and just as much sought after. If it were to be had for flattering words or money, it would be a proudly boasted decoration on the chest of many of the most prominent of our contemporaries. But only those who distinguish themselves by very special merits can hope to be honored in Aachen one day with the 'Medal for Combating Deadly Seriousness', very special merits that is, relating to an art officially designated as 'humour in office'. What is really meant by this is the relaxed, jovial absence of ponderous gravity, a quality that is capable of even bringing out the human traits in the most inveterate bureaucrat. This unique award of the Municipality of Aachen has so far been granted to more than forty personalities of public life, by way of tribute to typically human virtues with a touch of the clownish. Most of these award bearers are politicians, diplomats and lawyers.
This truly remarkable award was instituted by the members of Aachen's Carnival Celebration Club and it has earned them appreciation and friendship all over the world.
It is to be doubted whether J.A. Dugdale had an inkling of what he set going in 1950 Mr. Dugdale in his capacity of public prosecutor in the town of Aachen, at the time part of the British occupation territory, decided to grant a reprieve from detention to a German culprit during the most intensely celebrated public holidays of Rhineland, from Carnival Sunday to Ash Wednesday. His magnanimous gesture made such a strong impression on the 'Council of Eleven' of Aachen's Carnival Celebration Club that they spontaneously decided to offer the Englishman an award as a token of appreciation. That event was the origin of the 'Medal for Combating Deadly Seriousness'. Although it was not until a few years later that the award got its current, typical name and that the medal going with the award was given its striking image: a shako in a 'cage of paragraphs' with a clownish bird on top of it.
While in the initial years of the award's history the selected nominees still had to ask their superiors for permission to accept the medal and wear it on appropriate occasions, the clownish 'Pour le mérite' has by now a well-established international reputation. And what's more, it has been officially recognized - in the Manual of the Federal Ministry of the Interior - as a cultural prize.
The list of the laureates of the 'Medal for Combating Deadly Seriousness'speaks for itself, ranging from 'A' for Konrad Adenauer to 'Z' for Baron Heeremann von Zuydwyck and comprising impressive, sonorous names such as Hans-Dietrich Genscher and Friedrich Nowottny, Jack Lang and Ruud Lubbers, Johannes Rau, Norbert Blüm and August Everding.
Three representatives of the fair sex, Gertrud Höhler, Renate Schmidt, and Heide Simonis have also acquired a place on the list of these remarkable laureates, to the joy of some, to the indignation of others.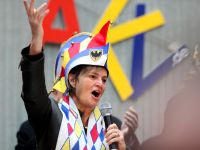 The appreciation the award enjoys everywhere also implies an obligation - 'Noblesse oblige' -. On the one hand for the laureates themselves of course, who have united in a Council of Laureates and who have adopted the motto 'to overcome with joyful dedication the seriousness that has beset a full century'; but on the other hand, there is an obligation for Aachen's Carnival Celebration Club, who must go out each year in search of a new candidate for the award. 'The situation is serious, very serious indeed', is what one seems to hear voices whispering from time to time in the 'Council of Eleven' of Aachen's Carnival Celebration Club. It is a fact that in our times of single-track careers, a sense of humour is not really one of the qualifications with which a career maker gets to the top, in the world of politics and elsewhere. Clownish natural talents have become a rare species, which Aachen's carnival celebrators are seeking obstinately to preserve from extermination, in which pursuit the 'Medal for Combating Deadly Seriousness'is a wonderful tool.

Infomation:


Aachener Karnevalsverein
Kurhausstraße 2
52062 Aachen
fon: +49/(0)2 41/47 03-110
fax: +49/(0)2 41/47 03-119
www.akv.de