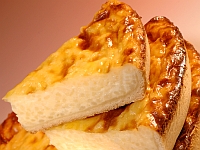 The secret of the rice cake does not so much lie in its unique taste, but rather in the fact that it can only be bought in our region. That is why many people have no idea what they are missing!
Originally the rice cake comes from Belgium from the region of Verviers, It, however, established itself a long time ago as a culinary delicacy everywhere in the three-country triangle. For the people from Aachen it ranges at a very high place on the scale of popularity besides the Printe (spicy ginger bread).
Which recipe might be behind the unique cake that attracts lovers from all over the world?
A light base of yeast dough baked in a flat baking tin, filled with creamy sweet rice, is eventually baked in the oven until it is golden-yellow. With its unique taste it slowly melts on the tongue and appeals everyone who tastes it.
A nice change to the simple rice cake variant is offered by modified forms of the original, e.g. with apricots, cherries or other fruit.
The one, who now feels like having a delicious piece of rice cake or wants to surprise his next guest with it, will find a selection of various rice cake variants in almost all bakeries of Aachen and the surrounding border area.

Enjoy your piece of rice cake!
Foto: Nobis Printen