Cathedral of Aachen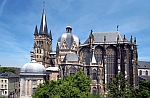 The Cathedral of Aachen is one of the most famous examples of occidental architecture. It is the coronation church of more than 30 German kings, burial site of Charlemagne, major pilgrimage church and cathedral church of the Aachen diocese since 1930. In 1978 it was the first German building to be included in the UNESCO World Heritage list. A guided tour is therefore an essential part of any visit to Aachen and a "must" for anyone who loves historic buildings and churches.
Cathedral of Aachen
 Domhof 1
52062 Aachen
tel.: 0049 (0)2 41/477 09-0
fax: 0049 (0)2 41/477 09-144
info@aachendom.de
www.aachendom.de

Business hours
daily 7.00 a.m. to 7.00 p.m.
January - March: daily 7.00 a.m. to 6.00 p.m.
No visits during the services, e.g. no tours before 11.00 a.m.,
on sunday before 1.00 p.m.

Services are held at the following times:
Mon – Fri: 7.00 a.m., 10.00 a.m.
Sat: 7.00 a.m., 8.00 a.m., 10.00 a.m.
Sun: 7.00 a.m., 8.00 a.m., 10.00 a.m. (High Mass, Aachen Cathedral Choir), 11.30 a.m.


To book a tour for groups please call
tel.: +49((0)2 41/477 09-127
fax: +49/(0)2 41/477 09-150
Guided tours of the Cathedral for groups

Guided tours for individuals:
Mon – Fri: 11.00, 12.00, 13.00, 14.30, 15.30 and 16.30 h
Sat – Sun: 13.00, 14.00, 15.00 and 16.00 h
additionally in summer:
Mon – Fri: 17.30 h
Sat – Sun: 17.00 h

Language: German, in addition: English, daily at 14.00 h

Meeting point:
Cathedral Information, opposite the Cathedral Treasury
Duration: approx. 45 minutes



Cathedral Information
Johannes-Paul-II-Str
52062 Aachen
tel.: +49/(0)2 41/477 09-145